If you haven't discovered this podcast, you should take a look at this news from the podcasting world.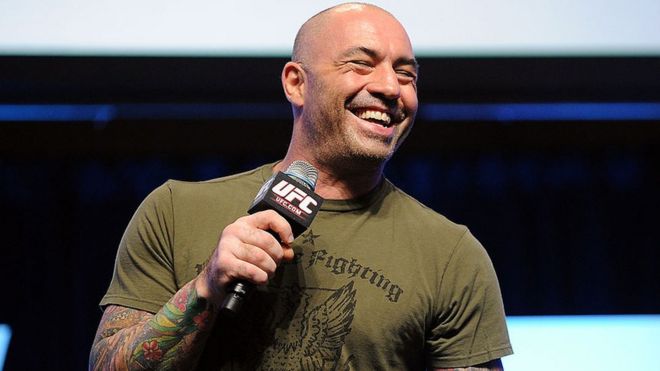 NEWS:
Joe Rogan is a US stand-up comedian and TV host-turned-provocateur, who launched his podcast in 2009 – in the early days of the medium.
He invites a wide range of guests, including actors, musicians, comedians, politicians and conspiracy theorists on to the show, which has garnered a huge audience. Last year the podcast was downloaded 190 million times per month.
The Deal..
Joe Rogan signed an exclusive deal with Spotify, which will see his podcast, The Joe Rogan Experience, disappear from all other platforms.
The multi-year deal is believed to be worth $100m (£82 million), according to the Wall Street Journal.
Rogan's podcast, which is one of the most popular in the world, will arrive on the streaming giant on 1 September.
It will then be housed there exclusively by the end of the year, and removed from all other platforms.
"It will remain free, and it will be the exact same show," said Rogan. "It's just a licensing deal, so Spotify won't have any creative control over the show.
"They want me to just continue doing it the way I'm doing it right now.
"I'm excited to have the support of the largest audio platform in the world and I hope you folks are there when we make the switch!"
Spotify Downgraded by Bernstein: 'It's Unlikely Spotify Will Generate Much Earnings From Podcasts'
Since unveiling a multiyear deal to become the exclusive home of The Joe Rogan Experience (JRE) in May, Spotify has experienced exponential stock market growth, including several all-time-high prices and a valuation in excess of $50 billion. And while many investment firms have signaled confidence in the music streaming platform's long-term prospects, Bernstein has downgraded its rating.

Bernstein analyst Todd Juenger – who has taken a bearish view of Spotify since he began covering the company in January of this year – recently downgraded the Stockholm-based brand's rating from "market perform" to "underperform." Juenger also raised his target price from $134 to $172, though the latter is nearly $100 below the stock's present per-share value, $265.80. To be sure, this target price is less than Spotify was trading for in the days leading up to the announcement of the JRE contract.